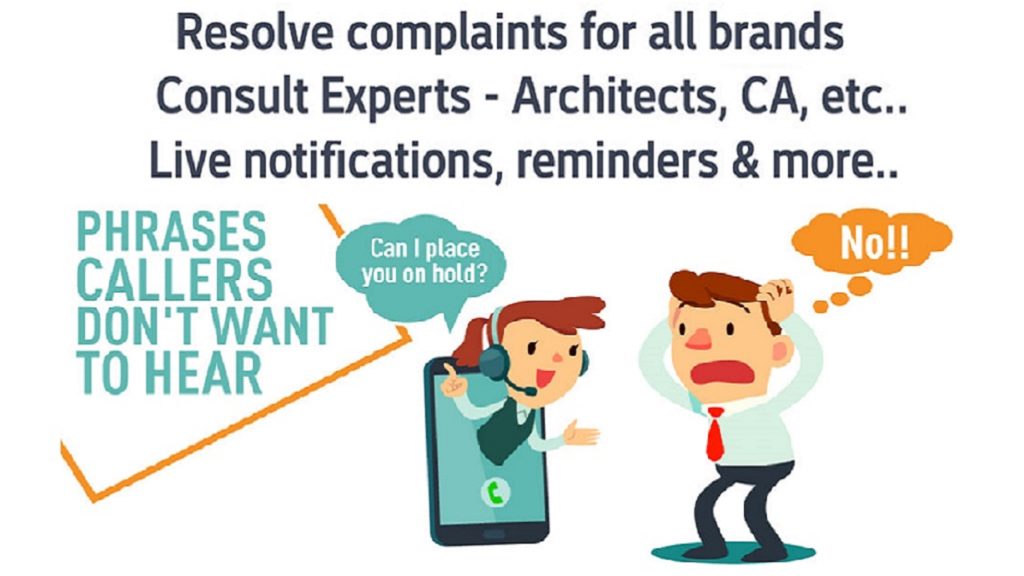 MULTI SERVICE PLATFORM ✓
Contact Brand Customer Care and get free services @No Cost: Bluestar, LG, Samsung, Voltas, Hitachi, Phillips, Havells, IFB, Godrej, Dell, Lakme, Xiaomi, MI, Oneplus, Dabur, Parle, Patanjali, Britannia, etc.
Raise Free Consumer Complaints, Get Video Consultation from Experts, Safekeep Bills, Records, Get fast service from thousands of Brands, Utilities & Industry Experts.
No need to wait in long queue or search for Customer Care Contact !
No need to keep searching bills for consumer care and complaints as all records are saved on secure cloud – free and access best services 24by7 !
Free Live status, reminders and notifications directly from customer care !
BOOK A SERVICE
View, Compare and Connect on 1 to 1 secured Video Call with Innovative & Expert team of Industry Professionals across various categories.
Business & Industry experts displayed with ratings based on the transparent feedback gathered for services provided over a certain period of time.
Best service from known experts.
DIGITAL BILLS
Safekeeping of hardcopy of Invoice, warranty, insurance records to avail After-Sales and Customer Care Service of multiple Brands, OEMs, Experts, Service Providers. No need to search bill for online consumer complaints.
CONVINIENCE
Real time on demand service request status update from Brand/OEM.
Receive communication directly from Brand/OEMs.
Rate your service experience after service completion.
We help consumers in fighting against injustice, fraud and lousy customer service. We use social media, business network and legal framework to resolve your consumer disputes.
Steps to request a service using myDooT app or web.:
Register using your email and phone number.
Submit service request details and attach any evidence (Photo).
Receive live updates and instant notifications from Providers.
Steps to get an appointment from Experts:
After login, click 'New Appointment" and choose Service Category under "Professionals" tab.
Search and compare Experts and Freelancers filtered on basis of experience and market ratings.
Request an appointment with details and attach your documents.
Chat/Video Call / Call back from Service Provider for every request.
5.You can also give Feedback and Service Rating for services provided or ask a question.
Your "DOOT" ( दूत ) for day to day resolutions.
Check Privacy Policy and Terms and Conditions:
https://mydoot.com/privacy-policy
https://mydoot.com/terms-and-conditions